Southeast Asia Scholarship Fund
Welcome to the home page of the Southeast Asia Scholarship Fund. We are an IRS Section 501(c)(3) exempt private foundation, registered with the State of Oregon. We provide scholarships to selected public schools in Southeast Asia. All contributions are fully tax deductible. Our contact address is
Southeast Asia Scholarship Fund
Attn: Dr Tran Thong
8780 SW Pacer Drive
Beaverton OR 97008
e-mail : seasf@comcast.net
web: http://seasf.systolicvn.com
The board of directors of the Southeast Asia Scholarship fund is headed by Dr. Tran Thong, President, SEASF.
The early years


Southeast Asia Scholarship Fund was established in 1993 as an Oregon (USA) non-profit organization following a visit to Vietnam by one of our founders, Ms Nguyen Thi Bich Thuy. SEASF was recognized by the IRS as a 501(c)(3) organization in 1995. The first set of 5 scholarships was awarded to students of Hochiminh City Medical Training School (now Pham Ngoc Thach Medical School) in October 1995. In 1996 we started a long term scholarship program with the University of Hue, in central Vietnam that lasted until 2002. In 2003 we switched our scholarship program to the Phu Xuan Community College.
April 2007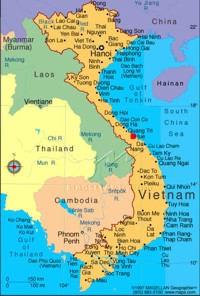 We currently have a scholarship program at the Phu Xuan Community College (it is actually a 4 year liberal art private university) in Hue, Vietnam. We chose Phu Xuan CC because of its location.
Hue
is the proud capital city of ancient Vietnam, with an excellent tradition of scholarly work, but it is in one of the poorer part of Vietnam. In the map on the left, it located in the central part of Vietnam and is marked with a red square There are two universities in Hue. The government funded University of Hue, and the private Phu Xuan CC. We used to fund a scholarship program at the University of Hue, but pulled out when we could not get clear accountability of the scholarship funds we provided. We have had excellent rapport with the staff at Phu Xuan and have provided them scholarships from the day the university opened its door in 2003. The university has graduated its first class in 2007.
As a new private university, Phu Xuan does not get the best and brightest students. However they do get motivated students, and the faculty and staff are dedicated. These students, who are typically from poor rural areas had difficulty making their grades in high school, since most of them have to help their parents in the field. Now that they are in Hue, away from field work, they are able to concentrate on their studies and some of them have done very well. Our scholarship program is aimed at the best students at Phu Xuan. We want to give them an opportunity to concentrate on their studies and not to have to worry about field work during the 4 years they are at Phu Xuan.
Our own overhead is 3.4% of the 2007 total expenditures. In 2007 we have to pay the various fees that the state of Oregon assesses us ($60 out of $72 total overhead expenditure!), and some postage, bank fees. That is all. None of our Board members, nor our local coordinator are paid. The rest of the funds is used to support our scholarship program.
In 2006 we provided 30 scholarships to the students of Phu Xuan. The cost of each annual scholarship is about $83 and consist of a 1,200,000 VND (about $75) scholarships given to the students in 2 parts (Spring and Winter) and a 10% grant to the university for administering the program. In 2007 we provided 25 scholarships.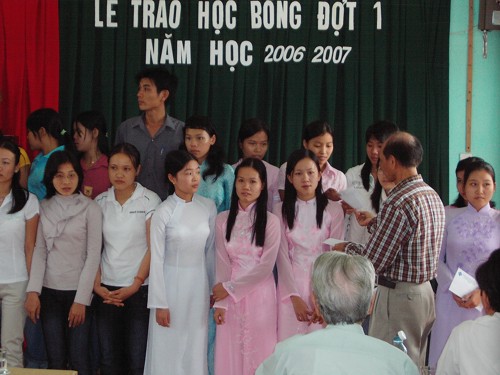 Award of 25 scholarships on 8 May 2007, following their first semester of the 2006-2007 school year. Handing out the scholarships is Dr. Pham Hoa (back view), our volunteer coordinator in Hue.
November 2007 Update.
Was in Hue in November 2007 for business and to give the University the scholarship money for the students at DH Dan Lap Phu Xuan (25 scholarships for half year + 10% to University for administration = 16,500,000 VND about USD1025. Each full year scholarship is 1,200,000 VND, about USD75) . These 25 scholarships are part of a total of 120 the University will be handing out on November 20, 2007. Our scholarships awards have the highest monetary values.
Phu Xuan graduated its first class this past year (Summer 2007). All the students in IT (Information Technology) and Chinese were placed. Chinese companies in Saigon snapped all the students majoring in Chinese. They are still evaluating placement for the other faculties. Toured their 2nd facility in Phu Cam, an outlying district of Hue. Big new building on top of a hill (was an old hotel, then taken over by Ngo Dinh Can, then a state-owned enterprise). It was quite a coup for Phu Xuan to get this location from the local government.
There was an IT competition in Hue earlier this year. First place went to the team of Khoa Hoc (Faculty of Sciences, U of Hue), second place was the IT team of Phu Xuan, third was the IT team of Su Pham (Faculty of Education, U of Hue).
December 2008 Update
In December 2008, we awarded to DH Dan Lap Phu xuan 31 scholarships of VND600K for university level students, and 4 scholarships of VND400K for college level students. The total amount, including a 10% grant to the university for scholarship administration totaled US$1,297.43. This will be our last year with Dai Hoc Dan Lap Phu Xuan. After 5 years of support we have decided to move our support to another university since Phu Xuan now has developed a number of additional scholarship sources.
November 2009 Update
In November 2009, we awarded 9 scholarships to the University of Tra Vinh (Dai Hoc Tra Vinh), a university in the province of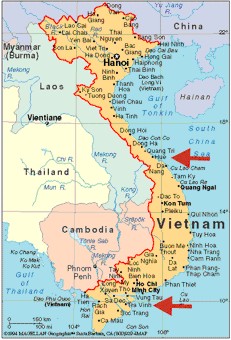 Tra Vinh in the Mekong delta, south of Saigon. We chose the university since it is in one of the poorer provinces in the South. We were introduced to the University through the Vietnam Heritage Institute (http://www.thevhi.org) that has an ongoing agricultural research program at the University. Tra Vinh University has 3 schools. There is a Truong Trung Cap (academy for the lack of a better description) for technical education at the high school level. Then there is the Truong Cao Dang (first 2 years of university) and finally the Truong Dai Hoc (the last 2 years of university). We chose to award 3 levels of scholarship to provide full tuition at each of the 3 levels: 1.6 MVND (USD 54), 2 MVND (USD 108), 2.4 MVND (USD 130). Since this is our first year with Tra Vinh University, we awarded only a total of 9 scholarships to needy students, 3 at each of the levels. The University was asked to select the students for the awards. The University was also given a grant amounting to 10% of the total scholarship amount. The total grant to Tra Vinh University is thus USD1,070.27.
Below is the picture of the students who were awarded the scholarships.
August- October 2010 update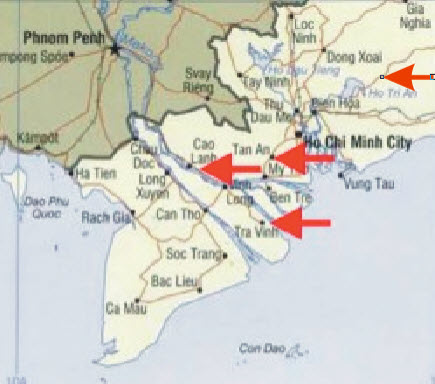 In 2010 we started a cooperation with Ms Ly Thu Linh from Choice Humanitarian to expand our scholarship program to high schools, junior high school, primary school in the provinces of Long An (Tan An), Dong Thap (Cao Lanh), Dong Nai (Dinh Quan, the northernmost arrow), in addition to our on going scholarship program at Tra Vinh University. More later.
Our income tax returns are public. The .pdf document of the edited (certain confidential information such as Federal ID and addresses of directors have been deleted, all the accounting information are fully disclosed and accurate) 2006 Federal and Oregon tax returns (1.2MB), 2007 Federal and Oregon tax returns (1 MB), 2008 Federal and Oregon tax returns (752 KB), 2009 Federal tax returns (1.1 MB), are available from the links shown. However they are password protected. If you want to review them please e-mail us your name, address and e-mail for our records and we will send you back by US Mail (to validate the street addess) the password to open it. If you would like to receive the full set of information, please send us a request by US Mail.
Tran Thong - SEASF Director


Last updated: Nov 1, 2010 Copyright SEASF 2007- 2010